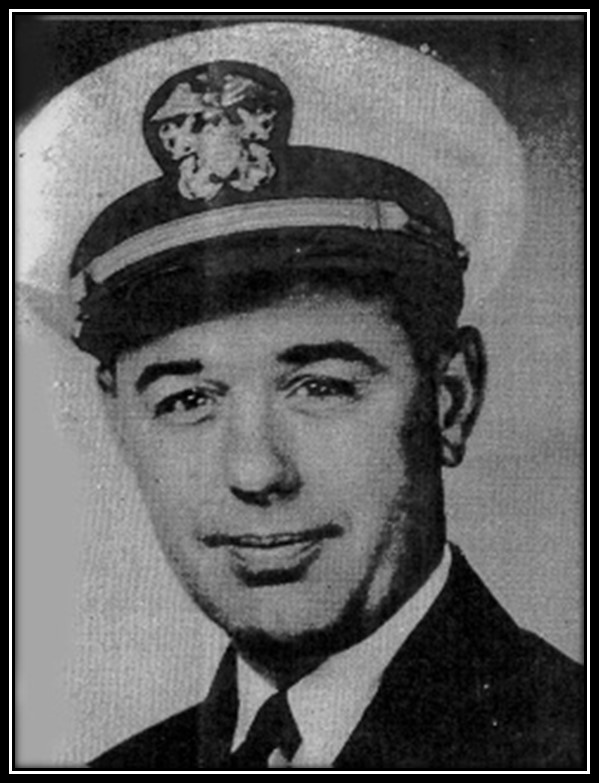 William J. Nott
Born: April 8, 1924
Died: April 10, 2015
Lived in Portsmouth for 61 years
William J. Nott
Lieutenant Commander
Commendations: See details
Served During:
Korean War, Taiwan Conflict, Vietnam War, WWII,
Served In: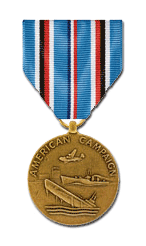 American Campaign Medal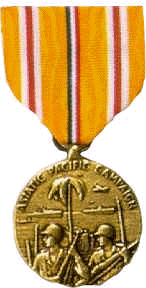 Asiatic-Pacific Theatre Medal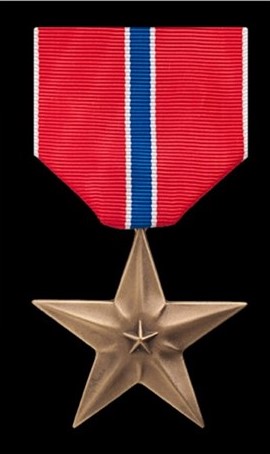 Bronze Star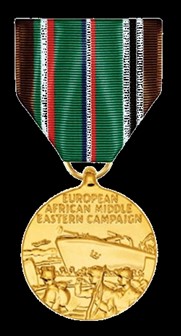 European–African–Middle Eastern Campaign Medal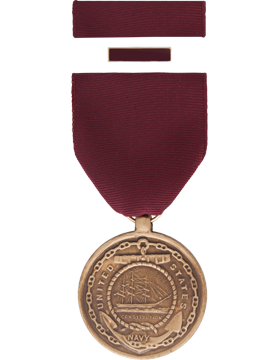 Navy Good Conduct Medal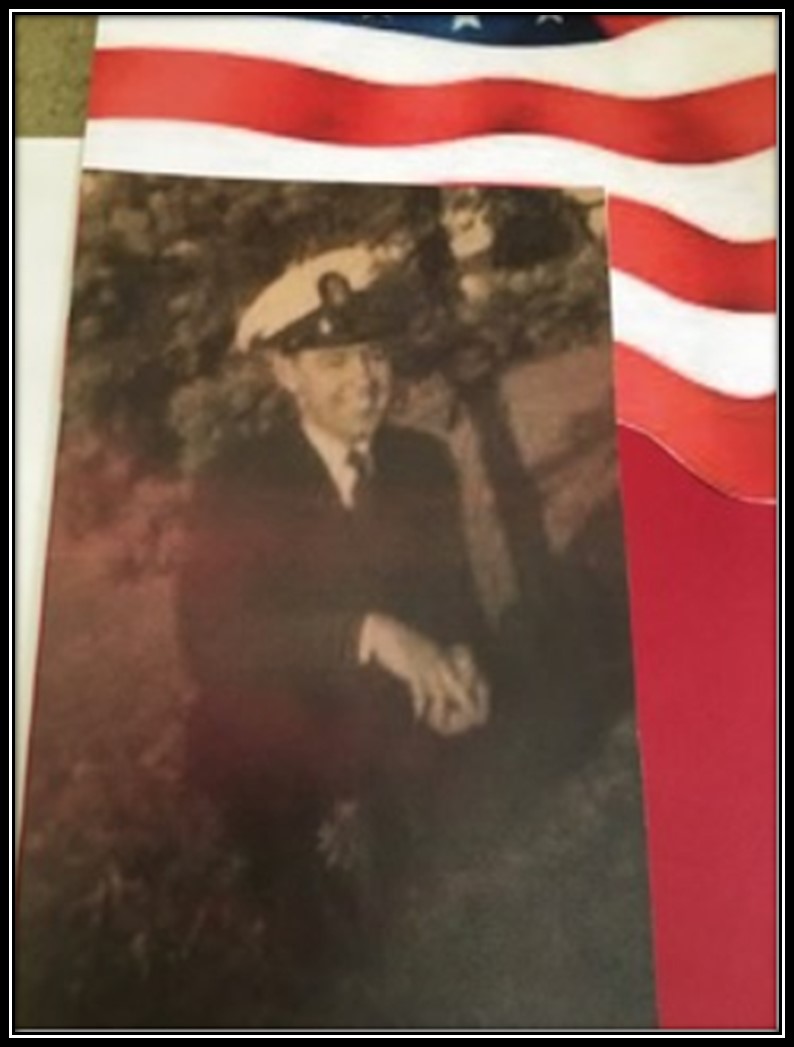 William Nott with son Michael during his Honor Flight at the WW II Memorial.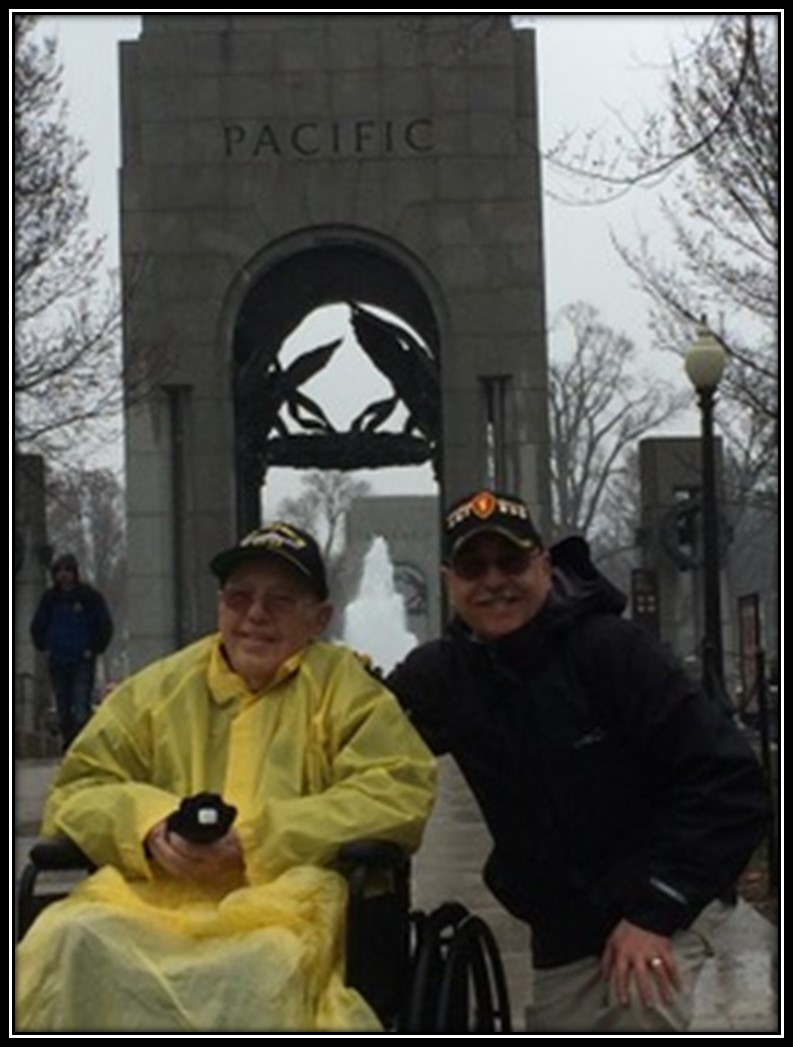 USS Franklin (CV-13)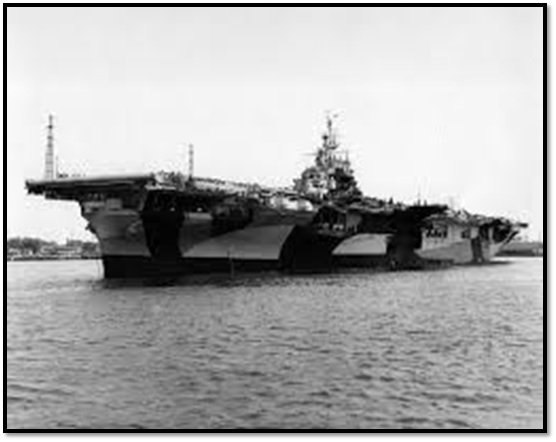 USS Franklin (CV-13) in flames after attack.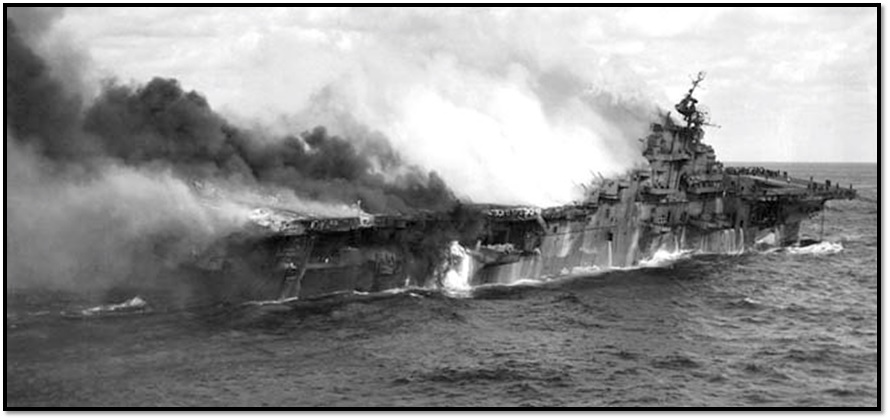 USS Mitscher (DL-2)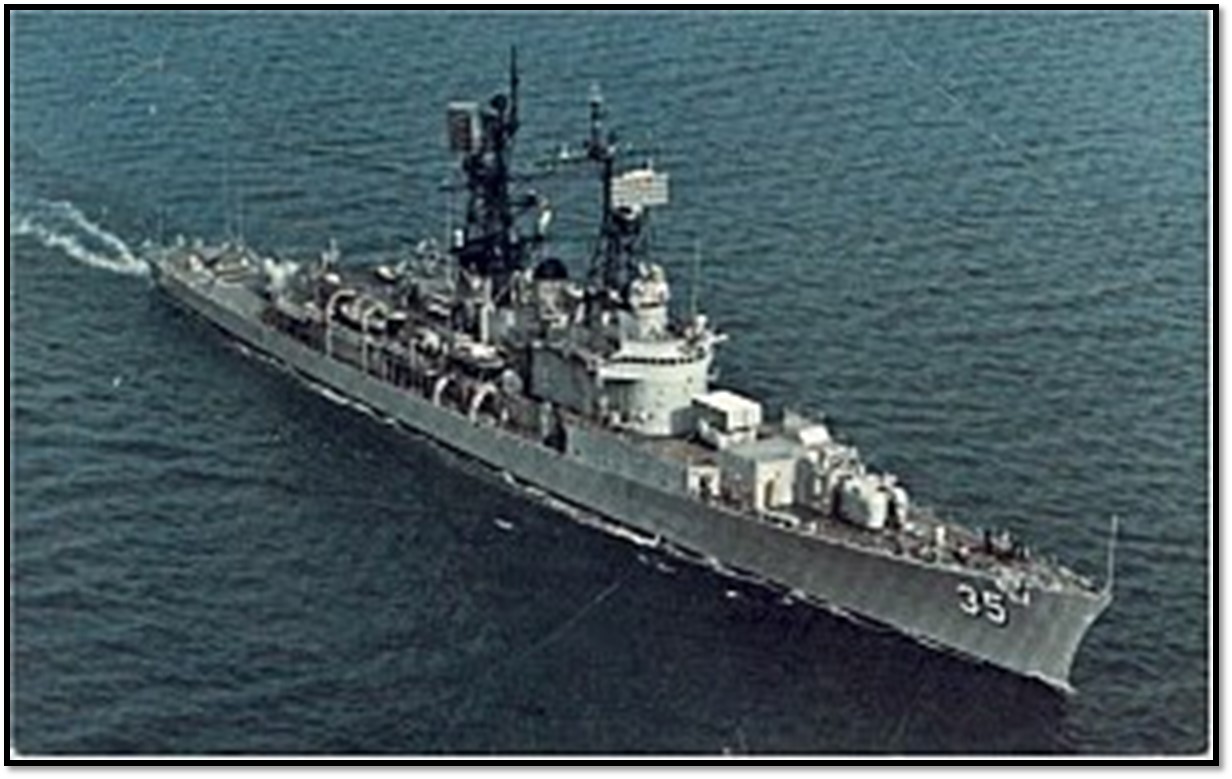 USS Goodrich (DDR-831)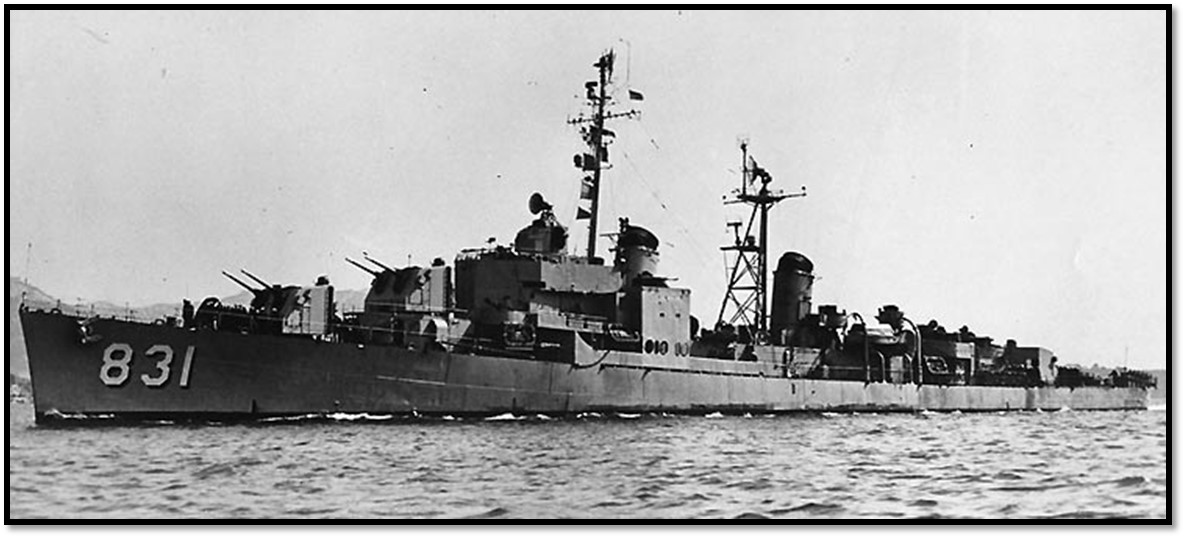 USS Albermarle (AV-5)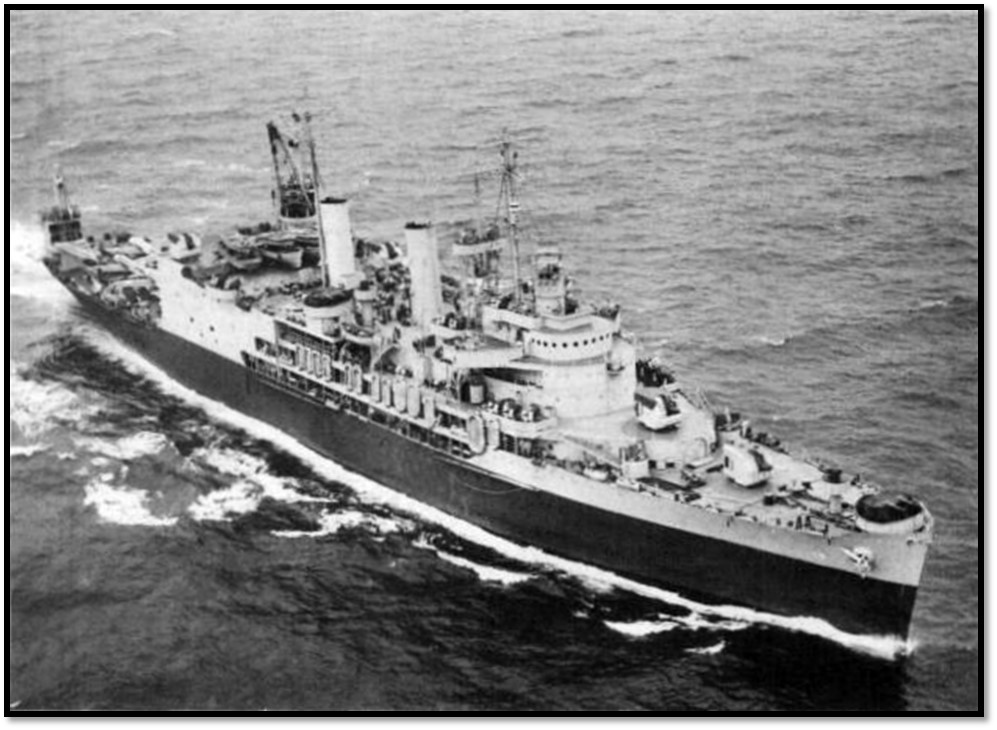 USS James C. Owens (DD-776)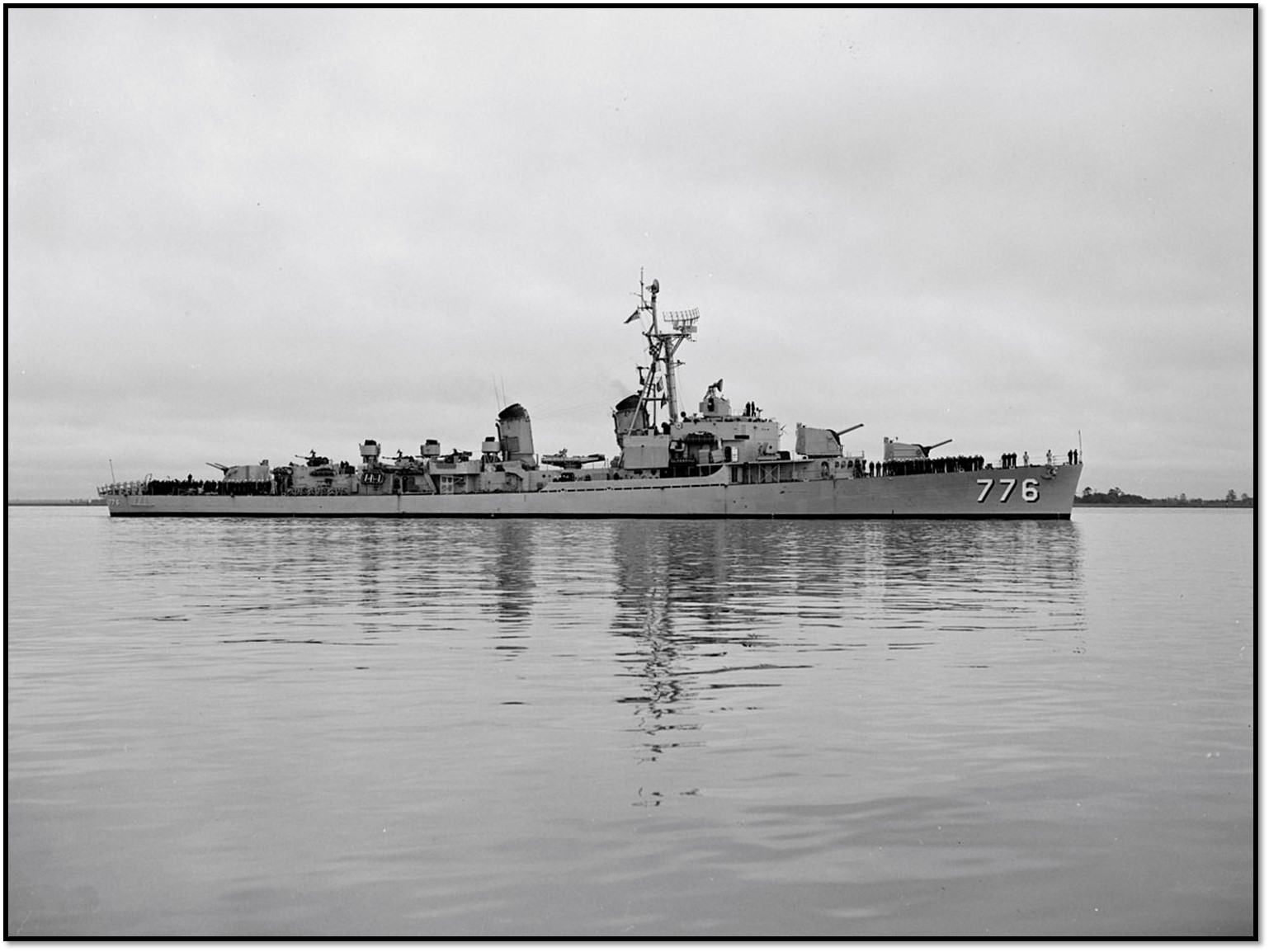 Bronze Star Medal with Combat "V", Navy Good Conduct Medal with 5 Stars, American Campaign Medal, European African Middle Eastern Campaign Medal, Asiatic Pacific Campaign Medal with 4 Stars
LCDR U.S. Navy Retired. William James Nott enlisted in the Navy after high school and served during World War II, Korea, and Vietnam. Serving in the Navy for 26 years, he worked his way up through ranks and became a commissioned officer, also known as a "Mustang" and retired as a Lieutenant Commander. He was a proud crewmember of the U.S.S Franklin (CV-13), during WWII. William was a member of the Franklin's "704"club. He earned the Bronze Star for valor during WWII. The USS Franklin (CV/CVA/CVS-13, AVT-8), nicknamed "Big Ben," was one of 24 Essex-class aircraft carriers built during World War II for the United States Navy, and the fifth US Navy ship to bear the name. Commissioned in January 1944, she served in several campaigns in the Pacific War, earning four battle stars. She was badly damaged by a Japanese air attack in March 1945, with the loss of over 800 of her crew, becoming the most heavily damaged United States carrier to survive the war. Movie footage of the actual attack was included in the 1949 film Task Force starring Gary Cooper.
Before dawn on 19 March 1945, Franklin, which had maneuvered to within 50 miles (80 km) of the Japanese mainland, closer than any other U.S. carrier during the war, launched a fighter sweep against Honshū and later a strike against shipping in Kobe Harbor.  The Franklin crew had been called to battle stations twelve times within six hours that night and Gehres downgraded the alert status to Condition III, allowing his men freedom to eat or sleep, although gunnery crews remained at their stations.
Suddenly, a single aircraft – possibly a Yokosuka D4Y "Judy" dive bomber, though other accounts suggest an Aichi D3A "Val", also a dive bomber – pierced the cloud cover and made a low level run on the ship to drop two semi-armor-piercing bombs.  The damage analysis came to the conclusion that the bombs were 550 pounds (250 kg).  Accounts differ as to whether the attacking aircraft escaped or was shot down.
One bomb struck the flight deck centerline, penetrating to the hangar deck, causing destruction and igniting fires through the second and third decks, and knocking out the Combat Information Center and air plot.  The second hit aft, tearing through two decks.  At the time she was struck, Franklin had 31 armed and fueled aircraft warming up on her flight deck.  The hangar deck contained planes, of which 16 were fueled and five were armed.  The forward gasoline system had been secured, but the aft system was operating.  The explosion on the hangar deck ignited the fuel tanks on the aircraft, and gasoline vapor explosion devastated the deck.  Only two crewmen survived the fire.  The explosion also jumbled aircraft together on the flight deck above, causing further fires and explosions and detonating 12 "Tiny Tim" air-to-surface rockets.  Franklin was dead in the water, without radio communications, and broiling in the heat from enveloping fires.  On the bridge, Captain Gehres ordered Franklin's magazines flooded but this could not be carried out as the ship's water mains were destroyed by the explosions or fire. Admiral Ralph Davison transferred his flag to the destroyer USS Miller by breeches buoy and suggested abandoning ship, but Gehres refused to scuttle the Franklin as there were still many men alive below deck.
Many of the crew were blown overboard, driven off by fire, killed or wounded, but the hundreds of officers and enlisted who voluntarily remained saved their ship.  Among the dead was one of the ship's surgeons, LCDR George W. Fox, M.D., who was killed while tending to wounded sailors; he was awarded the Navy Cross posthumously.   When totaling casualty figures for both Franklin cruises numbers increase to 924 killed in action, the worst for any surviving U.S. warship and second only to that of battleship USS Arizona.  Certainly, the casualty figures would have far exceeded this number, but for the work of many survivors.  Among these were the Medal of Honor recipients Lieutenant Commander Joseph T. O'Callahan, the warship's Catholic chaplain, who administered the last rites, organized and directed firefighting and rescue parties, and led men below to wet down magazines that threatened to explode; and also Lieutenant Junior Grade Donald A. Gary, who discovered 300 men trapped in a blackened mess compartment and, finding an exit, returned repeatedly to lead groups to safety.  Gary later organized and led fire-fighting parties to battle fires on the hangar deck and entered the No. 3 fireroom to raise steam in one boiler. The Santa Fe rescued crewmen from the sea and approached Franklin to take off the numerous wounded and nonessential personnel.  Official Navy casualty figures for the 19 March 1945 fire totaled 724 killed and 265 wounded.  Nevertheless, casualty numbers have been updated as new records are discovered.  A recent count by Franklin historian and researcher Joseph A. Springer brings total 19 March 1945 casualty figures to 807 killed and more than 487 wounded.  Franklin had suffered the most severe damage and highest casualties experienced by any U.S. fleet carrier that survived World War II.
Franklin, like many other wartime ships, had been modified with additional armament, requiring larger crews and substantial ammunition stocks.  Aircraft were both more numerous and heavier than originally planned for, and thus the flight deck had been strengthened.  The aircraft carrier, therefore, displaced more than originally planned, her freeboard was reduced, and her stability characteristics had been altered.  The enormous quantities of water poured aboard her to fight the fires further reduced freeboard, which was exacerbated by a 13° list on her starboard side, and her stability was seriously impaired such that her survival was in jeopardy.  After six hours, with the fire finally under control such that the ship could be saved, Admiral Davison deployed five destroyers to search for any of Franklin's men who had been blown overboard or jumped into the sea.
USS Mitscher (DL-2/DDG-35), named for Admiral Marc "Pete" Mitscher USN (1887–1947), was the lead ship of her class of destroyer of the United States Navy.
Originally designated DD-927, she was laid down by the Bath Iron Works Corporation at Bath, Maine on 3 October 1949, reclassified as a destroyer leader and designated DL-2 on 2 February 1951, launched on 26 January 1952 by Mrs. Marc A. Mitscher, widow of Admiral Mitscher and commissioned on 15 May 1953, Commander Terrell H. W. Connor in command.
Mitscher was initially homeported in Newport, R.I., and became the operational flagship for Commander Destroyer Flotilla Two.  After initial shakedown exercises off Cuba, Mitscher returned to Boston for further modification, followed by another shakedown cruise to Guantanamo Bay, ending 31 August 1954. Homeported thereafter at Newport, R.I., she conducted exercises off the east coast until 3 January 1956, when she sailed on a good-will cruise to England, Germany, and France, returning to Rhode Island 10 February. For the next 5 years, she continued her east coast operations, deploying annually either to the northern or eastern Atlantic for NATO exercises.
In 1955, Mitscher cruised the Caribbean with Commander Destroyer Force, US Atlantic Fleet embarked. In 1958, President Eisenhower broke his personal flag in Mitscher during the America's Cup Challenge Races off Newport.  Mitscher journeyed to South America on a four-month cruise in 1959, and subsequently cruised to Northern Europe for extended NATO Exercises.
In November 1960, the ship's homeport was shifted to Naval Station Charleston, SC, where she became the operational flagship of Commander Destroyer Flotilla Six. On 9 February 1961, she departed her new homeport, and steamed to the Mediterranean for her first 6-month tour with the U.S. 6th Fleet.  Early in 1961, Mitscher deployed with the Sixth Fleet. During this cruise, Mitscher was flagship for Admiral Anderson, Commander Sixth Fleet.  The ship was again transferred to Newport, R.I. in 1962, where she again became the flagship of Commander Cruiser Destroyer Flotilla Two. Such deployments over the next 4 years involved her in further NATO exercises as well as 6th Fleet exercises.  Spring 1964, departed Newport, RI for 6-month tour with 6th Fleet.  In August 1964, while in the Mediterranean, she stood off Cyprus to aid in the evacuation of American nationals, and then steamed through the Suez Canal to patrol the Red Sea and the Persian Gulf.  Returned to Mediterranean for 4-month tour with U.S. 6th Fleet in 1965, returned to Newport, RI December 1965.
On 2 March 1966, Mitscher departed Newport for the Philadelphia Naval Shipyard.  There, she was converted to a guided missile destroyer at between 18 March 1966 and 29 June 1968 and designated DDG-35.  In late August 1970, Mitscher departed Norfolk for Mediterranean operations with COMDESRON One Four aboard.  Her next deployment was in July 1971 as a member of Destroyer Squadron Twenty-Six, the "Mod Squad".  Mitscher entered the Norfolk Naval Shipyard in March 1972 for overhaul.  Mitscher was decommissioned and stricken from the Naval Vessel Register on 1 June 1978, and sold for scrap in July 1980.
USS Goodrich (DD/DDR-831) was a Gearing-class destroyer of the United States Navy, named for Rear Admiral Caspar F. Goodrich (1847–1925), and his son, Lieutenant Caspar Goodrich (Died 1907).
Goodrich was launched on 25 February 1945 by the Bath Iron Works Co., Bath, Maine; sponsored by Mrs. Caspar F. Goodrich, widow of Admiral Goodrich and mother of Lt. Goodrich; and commissioned on 24 April 1945, Commander Dale R. Frankes in command.
Service History
After shakedown training in the Caribbean, Goodrich transited the Panama Canal on 12 November 1945 to support the occupation of Japan. She patrolled between principal Japanese ports until October 1946; then she based at Tsingtao, China, for patrol along the coast of Korea.   The destroyer returned to San Francisco, California, on 21 December 1946 and departed on 7 January 1947 to base at Newport, Rhode Island, as a unit of the United States Atlantic Fleet.
Goodrich overhauled in the New York Naval Shipyard, then served in the Mediterranean Sea (2 February – 22 May 1948).  This was her first of many annual tours with the "steel gray stabilizers" of the 6th Fleet, of actively countering the repeated threats of the Soviets to overrun the defenseless nations of the Balkans and the Middle East.
Goodrich was reclassified a radar picket destroyer, DDR-831, on 18 March 1949.
Her service included patrol along the Israeli-Egyptian border of the Red Sea in February 1956 to help stem the Mid-East crisis that finally culminated in the nationalization of the Suez Canal.  When fighting erupted, she sped back to the Mediterranean in November 1956 to protect Americans in that area and serve notice that the United States was determined to contain and terminate the conflict. The destroyer supported the landing of Marines at Beirut, Lebanon, on 14 July 1958, as the Navy again met and checked a Communist thrust against the Western democracies.
Goodrich shifted her home port in June 1959 from Newport to Mayport, Florida.  Thereafter her annual deployments to the Mediterranean included intensive training in all forms of naval welfare with NATO units and a constant readiness with the 6th Fleet to meet any threat to peace in the Mediterranean region.  She interrupted her schedule in January 1960, entering the Norfolk Navy Yard for an eight-month modernization overhaul which included complete renovation and latest weapons and shipboard equipment.  She was on Project Mercury recovery station on 12 February 1962 as Lieutenant Colonel John H. Glenn, USMC, made his successful orbital space flight.
Goodrich went on alert again with the 6th Fleet during 24 October to 20 November 1962 when the Navy responded to President John F. Kennedy's call for a quarantine of Cuba that choked off the flow of military supplies and enforced the American demands for the withdrawal of the Soviet missile experts and equipment.  On 22 July 1966 the destroyer got underway from Mayport on her 13th 6th Fleet deployment.  She cruised throughout the Mediterranean for five months, unobtrusively patrolling with the 6th Fleet and taking part in combined naval warfare exercises with units of the Turkish, Greek, British, and Italian Navies.  She returned to Mayport on 20 December 1966 for upkeep and type training.
Goodrich was reclassified DD-831 on 1 January 1969, and was decommissioned on 30 November 1969. Berthed at Orange, Texas.; Goodrich was struck from the Naval Vessel Register on 1 February 1974. She was sold on 12 September 1977, and broken up for scrap.
USS Albemarle (AV-5) was one of only two Curtiss-class seaplane tenders built for the United States Navy just prior to the United States' entry into World War II.  Named for Albemarle Sound on the North Carolina coast, she was the third U.S. Naval vessel to bear the name.
Albemarle was laid down on 12 June 1939 at Camden, New Jersey, by the New York Shipbuilding Corporation, and launched on 13 July 1940, sponsored by Mrs. Beatrice C. Compton, the wife of the Honorable Lewis Compton, Assistant Secretary of the Navy.  She was commissioned at the Philadelphia Navy Yard on 20 December 1940, with Commander Henry M. Mullinnix in command.
1950-1960
Standing out of Lynnhaven Roads on 2 March 1950, Albemarle subsequently worked out of Vieques, Puerto Rico, and Roosevelt Roads before she visited Martinique (15–17 March 1950), Grenada (17–19 March), Willemstad, Curaçao (20–22 March), and Ciudad Trujillo, Dominican Republic (23–25 March).  Stopping briefly at Guantanamo Bay, the ship returned to Norfolk on 31 March and remained there until 11 May, when she got underway for the New York Naval Shipyard, arriving there the following day.  While docked at Norfolk she appeared in the opening scene of the 1951 film You're in the Navy Now.  Attached to the New York Group, Atlantic Reserve Fleet, the ship was decommissioned on 14 August 1950 and berthed at Brooklyn.
1956-1960
Shifted to the Philadelphia Naval Shipyard in February 1956, Albemarle was earmarked for conversion to tend Martin P6M Seamaster jet flying boats.  She was reassigned from the Atlantic Reserve Fleet to the Commandant, 4th Naval District, for conversion, effective 6 February 1956.  Equipped with stern ramps and servicing booms to handle the "Seamaster", as well as a semi-sheltered area and a service drydock, the ship emerged from the conversion possessing the capability to serve as a highly mobile seadrome capable of supporting jet seaplanes anywhere.  Albemarle was recommissioned at Philadelphia on 21 October 1957, Capt. William A. Dean in command. After fitting out, she sailed for Norfolk on 7 December, and arrived there on the 10th.  The ship then sailed for Guantanamo Bay on 3 January 1958, made port there on the 7th, remaining there for ten days and carrying out shakedown training, before dropping down to Montego Bay, Jamaica.  Proceeding thence back to Guantanamo, concluding her shakedown on 21 January, Albemarle steamed thence to San Juan and Trinidad, carrying out tending operations with four squadrons of Martin P5M Marlin flying boats and participating in "Springboard" exercises.  Albemarle arrived back at Norfolk on 9 April, remaining there only five days before proceeding back to Philadelphia Naval Shipyard, where she remained under overhaul through mid-July.  Returning to Norfolk on 20 July, the ship got underway for operations in the North Atlantic on 14 August to take part in Operation Argus, and ranged as far as the Azores before returning to Norfolk on 16 September.  Over the next two months, Albemarle operated between Norfolk and Bermuda; she rounded out the year at Norfolk, arriving there on 19 November and remaining until 2 March 1959.
Albemarle continued to operate out of Norfolk through 1959 and into 1960, although the cancellation of the "Seamaster" program meant that the ship would never service the aircraft for which she had been reconfigured.  Her ports and places visited in 1959 encompassed the naval air facility at Patuxent River, Maryland; Pillsbury Sound, in the Virgin Islands; San Juan, and Savannah, Georgia; Halifax and Nova Scotia, Canada; New York City; Yorktown, Virginia, Port-au-Prince; Guantanamo Bay and Bermuda.  The ship commenced the year, 1960, operating out of San Juan, then moved in succession to Bermuda, back to San Juan, thence to Pillsbury Sound and Grand Turk Island, in the West Indies, thence to Guantanamo Bay and Pillsbury Sound again; thence to San Juan and Guantanamo, into March.  Unloading ammunition at the Naval Weapons Station Yorktown, between 12 and 15 July, Albemarle moored at Norfolk, commencing preparations for inactivation, from 15–18 July, before she proceeded to Philadelphia to unload material.  Returning thence to Norfolk on 30 July, she continued inactivation preparations through the summer.  Placed out of commission, in reserve, on 21 October 1960, Albemarle was initially berthed with the Norfolk group of the Atlantic Reserve Fleet pending her transfer to the Maritime Administration (MARAD) James River Fleet at Fort Eustis, Virginia.  Placed in the custodial care of MARAD, Albemarle was struck from the Naval Vessel Register on 1 September 1962.
USS James C. Owens (DD-776), an Allen M. Sumner-class destroyer, is the only ship of the United States Navy to be named for Lieutenant James C. Owens, Jr., a member of Torpedo Squadron 8 on board USS Hornet.  His entire squadron was lost in an attack against Japanese aircraft carriers 4 June during the Battle of Midway. Lt. Owens received the Navy Cross and the Presidential Unit Citation (US) posthumously.
James C. Owens (DD-776) was laid down 9 April 1944, by the Bethlehem Steel Co., San Pedro, California and launched 1 October 1944; sponsored by Mrs. James C. Owens, Jr., widow of Lt. Owens.  The ship commissioned on 17 February 1945, Commander R. H. Blair in command.
With the outbreak of war in Korea and increased tension in Europe and the Middle East, James C. Owens recommissioned on 20 September 1950, Comdr. R. B. Erly in command; and commenced readiness and antisubmarine training operations.  Departing for the Far East on 22 January 1952, she arrived in the Western Pacific on 27 February for blockade and interdiction patrols along the Korean coast.  While operating off Songjin 7 May, she engaged enemy shore batteries and silenced several of them, but sustained six direct hits.  Departing Korea 22 June, she steamed via the Indian Ocean and Mediterranean to Norfolk arriving on 19 August.  She returned to Korean waters on 10 November 1953, and patrolled coastal waters to prevent violations of the armistice signed on 27 July.  She remained on this important peace-keeping duty in the Far East until she departed Yokosuka, Japan, 11 March 1954. Steaming via Midway, the West Coast and the Panama Canal, she arrived Norfolk 1 May.
For almost two years James C. Owens operated out of Norfolk and Guantanamo Bay on ASW and destroyer division maneuvers.  While in the Caribbean during September 1955, she provided search and rescue assistance to the citizens of Puerto Rico after a destructive hurricane.  In April 1956 she sailed with DesDiv 221 via Northern Europe for the Middle East to operate in the Mediterranean, Red Sea, and Persian Gulf. During the Suez Crisis she transited the Canal to demonstrate American interest in a peaceful solution of the crisis.  Returning to Norfolk in October, she again deployed to the Mediterranean 28 February 1957 to support the 6th Fleet in the Middle East; then she returned to Norfolk on 7 May.  On 3 September she sailed to the North Atlantic for the NATO Operation Strikeback; after coastal operations for eight months, she deployed 6 June 1958, on a midshipman cruise to northern Europe.  Following fleet and NATO operations, she returned to Norfolk 4 August.
James C. Owens deployed on her fifth cruise to the Mediterranean and Middle East on 7 August 1959.  She ranged the Mediterranean from Italy to Lebanon and transited Suez on 14 October for two months of patrol and convoy escort exercises in the Red Sea and Persian Gulf.  Returning to the Mediterranean 15 December, she operated with the 6th Fleet for two months; then sailed for Norfolk, arriving 3 March 1960.  During September she joined NATO forces in the North Atlantic for Operation "Swordthrust," which stressed both offensive and defensive naval tactics of atomic warfare.  In November she steamed to the Caribbean and patrolled the coasts of Nicaragua and Guatemala to intercept Cuban arms bound for Castro-oriented rebels.  Retiring to Norfolk 20 December, she departed for the Mediterranean 2 February 1961.  Before returning to Norfolk 20 August, she operated with the 6th Fleet from Spain to Greece.
After joining the ASW Defense Force 25 September, James C. Owens steamed to Charleston 11 January 1962, for an 8-month FRAM II overhaul that readied her for a new role in the modern Navy.  She resumed operations on 19 December with surveillance patrols off the Cuban coast, then returned to Charleston 4 January 1963, for fleet exercises.  Departing 6 August with DesDiv 42 for the Mediterranean again she conducted ASW operations with the 6th Fleet from France to Cyprus.  Returning to the United States 23 December, she received DASH facilities at Norfolk during February 1964.  She continued her ASW operations during a midshipman cruise to the Mediterranean 11 June-3 September.  During the remainder of 1964, James C. Owens maintained her peak efficiency and readiness in coastal operations with nuclear submarines.
The ship departed Charleston on 17 February 1965 for a Mediterranean cruise, and carried out advanced antisubmarine operations during her deployment.
After her returning to Charleston on 12 July, she was designated a recovery ship for the Gemini V orbital space mission.  With the mission successfully completed, the ship returned to her home port 13 September.  On 2 November she entered the Charleston Naval Shipyard for extended overhaul.
In March 1966 James C. Owens was back on the line at Guantanamo Bay.  While there she rendered assistance to burning cruise ship, Viking Princess.  After returning to Charleston for a brief visit, James C. Owens embarked midshipmen for their annual at-sea training.  In late August she was assigned as the close in recovery ship for the second in a series of Apollo unmanned space launches.  In September the destroyer was deployed with the 6th Fleet; and, while operating in the Aegean Sea, she was ordered to the scene of sinking Greek ferry Heraklion, where she helped rescue the crew.  James C. Owens returned to Charleston on 31 January 1967, where it was updated in preparation for service along the coast of Vietnam during 1968.
James C. Owens received two battle stars for World War II service and two for the Korean War.